Waterford Rider Gallery
Thanks to the many fine Waterford owners who've contributed photos to this gallery.




Rob Manak's R-14 Rocket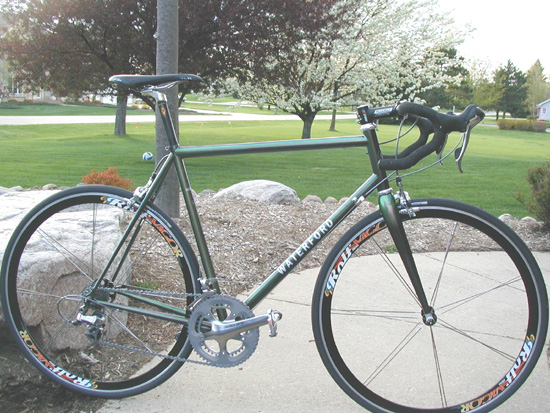 Rob finshed out this effective 60cm R-14 with 10-speed Dura-Ace and Rolf wheels, weighing in at 16 pounds before pedals - WOW! He passed in this shot with the following comments:

John Sotherland is an outstanding dealer. His knowledge is unparalleled and congruent with his level of service. I do not want to fail to mention that he and Liz are just well rounded great people to work with.

John fit me and his understanding of fit/comfort and perfomance shone well. I came out of this with a machine that performs superior to my expectations. The slightly sloping geometry (55.5) with a theoretical 58 top tube yields a machine that has almost zero torsional flex, (a fantastic climber) yet delivers a smooth compliant steel ride. The fit lays me out across the bike just how I like. Final weigh-in: 16lb, 0oz.(no pedals, bottle cages or computer).

I shopped EVERY part on the bike and ended up purchasing everything hanging on the bike through BicycleWise. They were comptetive with discount catalog sources and provided that extra level of service. I would highly reccommend them.

Parts spec:
Dura Ace 10 7800
FR, RR, Crank, STI, Brakes, Cassette, Chain
Chris King Headset, Alhpa Q sub 3 fork
Ritchie WCS Stem and Bar (OS)
Easton EA70 Seatpost, Selle Itialia SLR saddle
Rolf Vigor Wheelset
Flight Deck computer
COLOR: Harlequin series Silver/Green

Thanks, Rob!