Waterford Rider Gallery
Thanks to the many fine Waterford owners who've contributed photos to this gallery.




Bruce McCormmach's pride shows!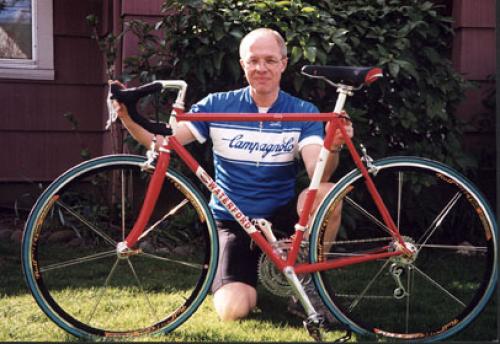 Bruce writes:
Here's a picture of me and my 1999 Waterford Road Race bike. This is an E-mail to let you know we are a "Waterford family". My 23 year old daughter, Rachel, has just ordered a 2200RS from River City Bicycles here in Portland. We are using the new paint booklet and are giving her bike a metallic green to metallic gold fade--should be way cool! I enjoyed the visit I had with you last year at River City and thanks for the personal help with fitting my new bike.
Sincerely,
Bruce McCormmach
Bruces's bike is a 58cm short top tube geomtry adjusted for his Kestrel fork. It's painted Intense Red with Ivory panel set and a painted head tube.