Waterford Rider Gallery
Thanks to the many fine Waterford owners who've contributed photos to this gallery.




Robbins RST-22 Stars at Red Rocks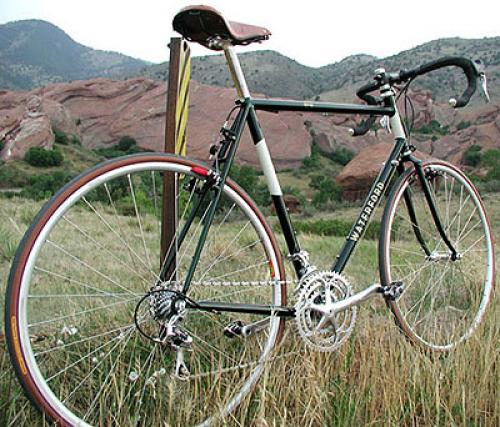 Josh Robbins offered this great photo of his RST-22 at Red Rocks Park in Morrison, Colorado, who says, "This picture shows the beast in its natural habitat, i.e, near twisty mountain roads here in Colorado. In the background is the world-famous Red Rocks Amphitheater.
It is Sherwood Forest with Ivory Panels and gold decals (inspired by the Lagavulin scotch bottle color scheme). It has the head-tube extension, full rack mounts, and cantilever braze-ons as I plan to slap some chubby tires on it and race �cross in the fall.
It is very much the epitome of the �do-it-all� bike. I wanted a four-season road bike that I could hang with the roadie club on and even race on a little bit � mostly just cyclocross and Cat 4/5 road events -- and yet still be able ride to work in sleetstorms with full-fenders. The RST fills this tall order beautifully.
It is built up with Campy Record Triple gruppo but with Spooky cyclocross brakes from Holland. This package suits the character of the bike wonderfully � it is racy fast yet still super plush and comfortable. Not to mention that it has all that faceplant-launching stopping power�
I've had it for a month now and put 750 extremely varied miles on it, including two triathlons. Not too many other honey-colored Brooks saddles in that aero funny-bike crowd! Just more proof that a good bike can do anything.
The best revelation of the RST � besides of course its astonishing versatility � is its prowess in high-speed descents. My roadie friends on their harsh Wonder Metal bikes are envious of my RST�s long wheelbase and slacker angles as I scribe perfect and precise arcs down Colorado�s winding canyon roads. Simply can't beat that velvet hum of a good steel bike floating down through 50 mph sweepers!
Ride on, and keep making those sweet rides!
Josh Robbins