Waterford Rider Gallery
Thanks to the many fine Waterford owners who've contributed photos to this gallery.




Don Lowe's 16.4 Pound Pride and Joy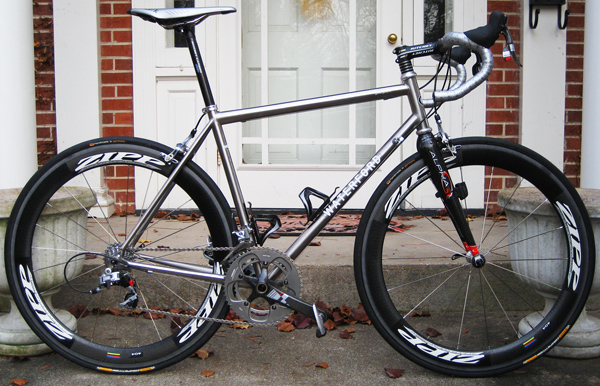 Don just snapped this portrait just after building up is 33-Series 953 with SRAM Red and Zipp wheels. It came to just 16.4 pounds as seen here with pedals and computer. Here's Don's first ride report:
" Took the new rig out for a shakedown today. In a word....WOW. All the effortless handling that I'm used to with my R-33's, i.e. it ALWAYS goes exactly where you want it to go, exactly when you want it to. The difference is in the additional stiffness of the 953 tubing. Acceleration is instantaneous. There is nothing remotely muted or dampened about this bike. It's as lively as they come. It's a racehorse, through and through. A real thoroughbred. The only pity is that I have to wait four months to race it."