Waterford Rider Gallery
Thanks to the many fine Waterford owners who've contributed photos to this gallery.




Roger Huffmaster's rig on the trail!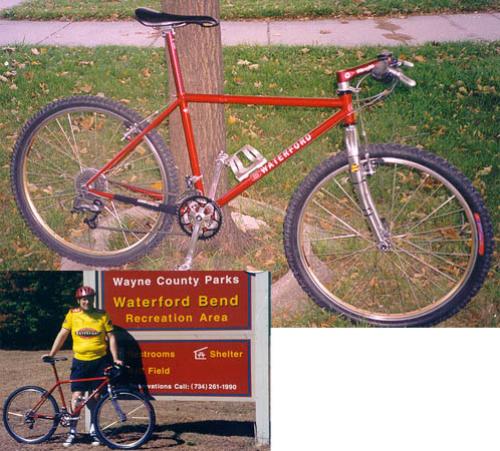 Roger gushes about his bike, purchased from Livonia Schwinn. The bike was built with a Kinesis suspension compatible rigid fork, Shimano XTR and XT components, Ringle stem and seatpost and other great parts. Roger himself poses on a ride in the Waterford, Michigan area.
Dear Waterford:
The bike I had in mind was 1993 Schwinn Paramount Team MTB. I have alsways wanted one, and my intent was for this to be the spiritual descendent of that model.
I have put over 500 miles on this bike and it is, without a doubt, the finest riding bike I have ever owned. Most of my riding is on dirt roads west of Detroit and this is the fastest of the four mountain bikes I own. I can consistently cruise at a slightly higher speed on it than any of the others, and with more comfort, despite the fact that two of my other bikes have suspension forks.
I do club invitational rides in Michigan, Ohio and Indiana. On one such 50-mile ride in Indiana in 1998 on one of my aluminum-frame suspension bikes, I was barely able to complete the route due to the ride dicomfort. On this bike in 1999, I was able to easily complete the route, and probably could have done at least 10 miles MORE. I would reocommend your frames to any cyclist interested in excellent ride quality as well as speed. The combination of your well-thought-out design and geometry, plus your beautiful assembly and paint, is unmatched in my experience.
Best regards. . .
Roger Huffmaster