Waterford Rider Gallery
Thanks to the many fine Waterford owners who've contributed photos to this gallery.




Brian Anderson shows off his beauty!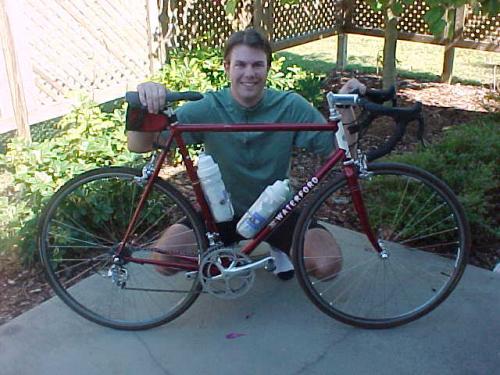 We received these kind from Waterford Rider Brian Anderson in Fort Myers, Florida:
" Dear Sirs-
I just wanted to drop you a line to let you know I am extremely happy with my Waterford 2200 bicycle. I purchased it about a year and a half ago from my local bike shop Trikes and Bikes in Fort Myers Florida. The help and recommendation at the shop was terrific and the bike fits like a glove. I've had numerous comments on the bikes good looks and I thought I'd send you a current picture of me and the bike. Fortunately for me in Florida I can ride year round. If I had to wait out the winter to ride I would probably go nuts looking at it sitting in my hallway. It is a beautiful piece of machinery! I am pleased to have done business with you and look forward to the day when I can either purchase a second bike from you or have this bike redone with your new stainless lugs.
Keep up the terrific work and I will tell all my friends about your bikes!
Sincerely-
Brian P. Anderson