Waterford Rider Gallery
Thanks to the many fine Waterford owners who've contributed photos to this gallery.




Dave and Ron on their Excellent Adventure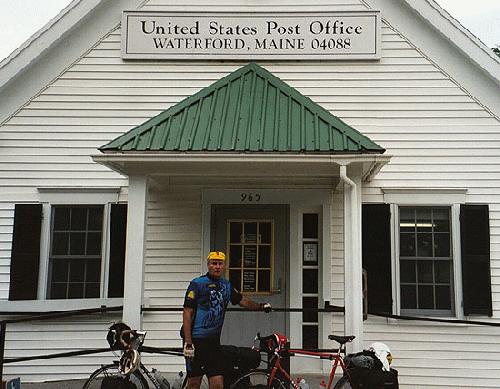 Ron Truax of Dearborn, Michigan, and Dave Smith of Monroe, Michigan, took our Waterford 1900 Adventure Cycles on the Eastern end of Adventure Cycling Northern Tier Transcontinental Route during July 2002. We started at Saratoga Springs, New York, joined the Adventure Cycling Route in Vermont, and finished 450 miles and 9 days later at the end of the route in Bar Harbor, Maine. Some hilly country for flatlanders! This is at the Post Office in Waterford, Maine, of all places. We purchased our Waterford Adventure Cycles from Bicycle Bob's of Monroe, Michigan, in 1998, and have been very satisifed. Trips have included a ride across Wisconsin in 1999; Windsor, Ontario to Boston in 2000; Lake Champlain circle in 2001, Vermont Route 100 in 2001, Michigan's DALMAC and Shoreline Tours, TOSRV in Ohio; and a Wyoming junket being planned for 2003.