Waterford Rider Gallery
Thanks to the many fine Waterford owners who've contributed photos to this gallery.




Wes Buterbaugh Loves His ST-22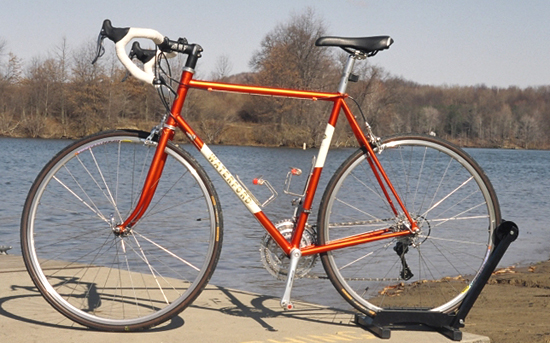 Our dealer in Edinboro, PS, Countryside Cycles, received photos and the letter below:
Hello Bob,
I wanted to get back to you to tell you how wonderful my new Waterford RST-22 is. The bike is truly superlative in every way. I have ridden it now for over 2500 miles, and already I know how fantastic this bike is.
The bike fits perfectly. The fitting-system you have is a great advantage. The reach, handlebar height, up-right seating position, seat height and length from the handlebars, angle of pedaling, reach to the pedals and saddle height, everything is comfortable and feels very efficient. One of the first things I wanted to check was how the bike handled rough tar-and-chip surface on the back-country roads I like to ride. I wanted to see how my 66 year old body felt after rumbling over that for a number of miles. Well, I felt fine. The steel frame, fork, and the wheels you suggested combined to make for both a fast and forgiving ride. I felt no soreness or discomfort as I did with my high-end aluminum/zirconium framed road bike. The steel has a kind of singing, harmonic quality to it that feels lively yet having none of the punishing throb that my previous, stiff, fatiguing road bike had. There is just the right jolt-absorption without being bouncy, and the ride is very stable. I am very grateful that you took so much time to measure me and work with Waterford to make sure the bike was a perfect fit.
The Campagnolo Ergopower Centaur drive train is truly amazing. It shifts flawlessly, crisply, and predictably. I especially appreciate the ability to shift up or down in one push of the shift lever as well as the ability to trim the front derailleur so it centers and does not rub. The gearing you suggested with the front triple chainrings of 53-42-30T combined with the 13 to 29T 10-speed cassette is just right for me. I have all the gears I want for climbing 15% grade hills and all the gears I need to roll down the other side. I usually don't attempt to achieve high speed averages this time of the year, but on my last ride I had a speed average I usually experience when I am in my best, summer shape.
On my first ride, I got caught in a fairly heavy rain. The Continental 4-Season, 700 X 28 tires were both fast and gave me a feeling of stability I really like. They are outstanding tires and just right for my style of riding. They roll without resistence and still give me a feeling of confidence and safety.
The Terry Fly saddle is superior, the brakes are smooth and make it very easy to stop in all conditions, and even something that seems as insignificant as the bar-end mirror works extremely well. At first I was in a bit of a shock about the metalic orange color, but I really appreciate it now. It is cheerfully bright while tasteful, and the cross-cut panels in custard look retro yet artfully stylish together. I really like being seen by drivers with a color that can be visually picked-up in a glance. Out on the road, bike frames are not easy to see, so any advantage I can get of being visible helps. The craftsmanship is flawless. It is, indeed, a bike to behold.
The Garmin Edge 205 computer is a lot of fun and very functional. I have not begun to explore all the technical advantages it has to offer, but I really like the 7-field display. I have e-mailed Garmin tech-support about a question concerning the grade % display and am waiting for an answer. GPS is a great feature and I'm glad I made that choice.
I am extremely grateful that Richard Schwinn recommended I come and see you to be fitted for a Waterford bike. You were very patient and had many good suggestions that made my ordering and receiving of my new bike a gratifying experience. Your expertise, skills in building a bike, and your ability to communicate and listen all combine to give confidence and make the whole adventure a lot of fun as well. Alisha was very nice to have included my wife, Lois, in conversation while she waited for us to fit, do the final building, and test-ride the bike. That was especially thoughtful. I really like that you did not rush things to make sure that everything was done just right. . .
Thanks again for all your help!
Sincerely yours,
Wesley Buterbaugh