Waterford Rider Gallery
Thanks to the many fine Waterford owners who've contributed photos to this gallery.




Cliff Oates at the 2000 Marin County Century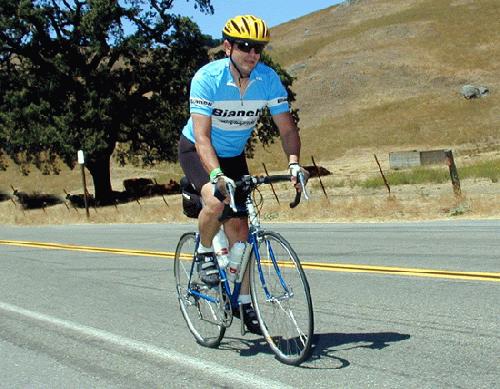 Here's a shot of Cliff climbing the hills of Marin Marin County on his new Waterford - "I am the delighted new owner of a stock 56cm 2200 that I purchased from Chuck Tyler, the owner of Dublin Cyclery in Dublin California in August, 2000. My new Waterford is built around the Campagnolo Chorus 10 speed component group. The bike weighs in at approximately 18.5 pounds, which I find amazing for a steel bike. I rode the bike in its first century 3 days after I received it and it rode beautifully. I\'ve had the bike for 3 weeks now, I've ridden it in a second century, the bike now has over 500 miles on it, and I must say that this is one sweet bike. I am truly pleased, it is a beautiful bike, and a delight to ride."
Thanks, Cliff