Waterford Rider Gallery
Thanks to the many fine Waterford owners who've contributed photos to this gallery.




Messerklinger takes Nagano!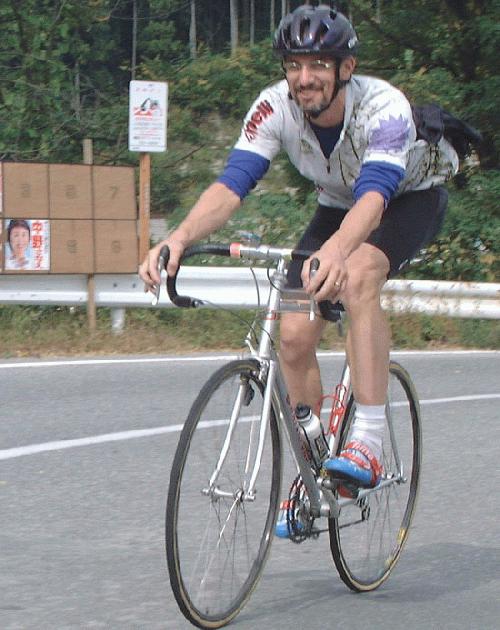 Josef Messerklinger brought his Waterford to live with him in Japan, where he teaches. His Waterford draws all kinds of stares and strokes from the locals. Here's one of his stories: Just got back from the Sunday ride down at Oi, and let me tell you it was a classic. Met up with a guy I hadn't seen in a while, Umeki-san, and he and I ended up doing the first two laps at a fairly brisk pace by ourselves not even thinking about how fast we were going or who was with us. He's been too busy with his new job to ride much, and we spent the time chatting. Works for a toy company as a producer; was telling me about the ins and outs of the business. Didn't even know how many laps had gone by until some riders from the fast group caught up to us. So, for the next two laps, we went around at 40+kph passing everyone in sight. Riders from the groups we passed (there were a lot of people there today) would try to stay on our wheels, but all of them eventually ended up getting spit out the back. On the start of the fifth lap, the rest of the fast group dropped like flies when Umeki jumped. I caught his wheel and went right passed him, but he stayed with me and the two of us kept up a 40-45kph pace passing even more groups. At the end of the lap with about two km to go, we climbed up a highway overpass, went down the other side, did a U-turn and then went back up again. I thought Umeki was toast, but he pulled up along side me. So I did a monster pull up to the last km doing 45+kph then let him pass me and pull for a hundred meters or so. He knew I was there and tried to accelerate once, but I didn't take the bait. Twice and that was it. I blew passed him with my head down going at least 49kph. Umeki didn't have an answer and I finished the final 500meters in the clear. Afterwards he and I had a good laugh. He said he saw me sit up at the top of the overpass and thought that I assumed he couldn't come with and was teasing him. (Yes, but I was really tired, too, and tried to shake him with that hard pull on the flats.) And he did expect me to attack in the final km after his first acceleration. I told him that I'm not that young anymore, which could be taken two ways. An inexperienced rider might attack too early like that only to be passed later by someone else with better timing. Or a very strong sprinter with lots of confidence might go early to shut down anyone else. In either case, that's not me anymore. Average speed for the 48km at Oi was 34.8kph, with a top speed of 49.7kph. Then figure another 16km down and back which makes 80km for the day. And that Waterford really is in its element on the flat circuit around the wharehouses, too. Yeah, leaned over all the way and at speed in a U-turn, changing my line to carve a path around slower riders was no problem at all. Heaven. The bike goes exactly where I want it to, like it can read my mind. It's not like the De Rosa, though, which was really laid back. This bike demands your full attention. Most fun I've had cycling since I was down in Otake this past March. And it's really cool having people come up to Umeki-san and say, "Gee, you're really fast," and then have him point to me and say "No, he's the fast one." Yeah, come home with my head too big to fit in the door. Well, just wait till this summer when the NTT pros ride with us. That'll humble me. Umeki-san said he and bike shop man did 190km last Saturday. Rode all the way from downtown Tokyo to the mountains in Saitama. Wow.