Waterford Rider Gallery
Thanks to the many fine Waterford owners who've contributed photos to this gallery.




Check out Robert Sliwinski's Cyclocross Bike!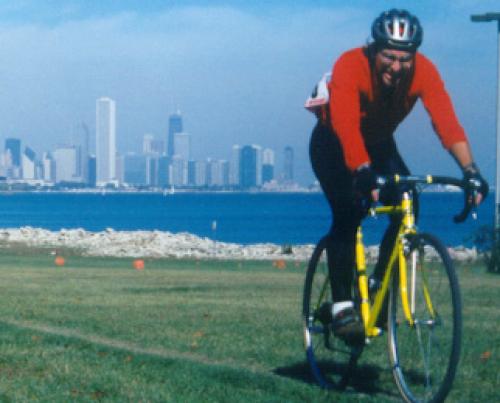 "I am very pleased with the performance of my X-11 - I like it better than my road bike. I've gotten so many complements on my Waterford I have to hand it to you for doing such a wonderful job."
Robert added in a followup e-mail:
"I have taken "Jorge" the X-11 to five mountain bike events this year, all three DuPage off road Challenges (15th, 33rd, and 8th places), Twist and Turn, and the Fat Bat Off-road Time trial (3rd Place Cat D!) I should have more photos if you like shortly. I have made some changes to the bike including a USE SX suspension post, 46 cm TTT forma handlbars and Time ATAC pedals. In addition I've tried the new Michelin Cyclocross Sprint and Mud - great tires. At Twist and Turn I raced the whole thing on a flat front and the tire never came off and the bike still had "The Ride", of course with the loss of steering quality I did manage to crash twice going downhill with a sharp right turn, once in a wetland!
Needless to say "jorge" the X-11 has done me proud. I'm promoting a Midwest Cyclocross calendar on my club's new web page. Please check it out and link it."http://members.aol.com/Sotgraphic/nbccindex.htm