Waterford Rider Gallery
Thanks to the many fine Waterford owners who've contributed photos to this gallery.




Check out the wonderful note we received from Mike Bohanan - updated for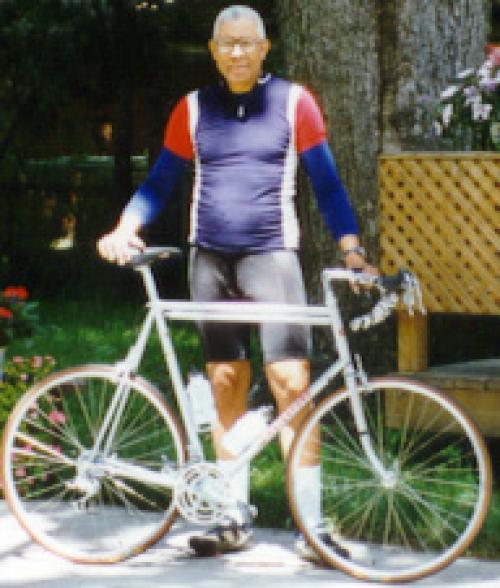 We received this note from Mike in July, 2003:
"My current ride is a 1997 Model 2200. I also have one of its ancestors, a 1973 Paramount P-13. I thought you might be interested to know that the Paramount is amazingly close to the Waterford in ride quality. However, it is not quite as quick or lively. The Waterford also corners better. However, the real reason for my e-mail is to make the followng observation: Continental TPS tires are, in my opinion and experience, a perfect match for the Waterford. I installed them at the start of this season, and they actually improved the ride and feel of a bicycle that needed no improvement! And, despite the fact that you are no longer a "new kid" on the block, I regularly observe riders on tours coming over the inspect the "Waterford", almost reverently, as if it were a Ferrari. Great bike, great ride, great looks, and great curb appeal.
Keep up the good work."
Here's what Michael wrote in June of 2000:
"This letter is in follow-up to my recent telephone call regarding my new Waterford. In a word, the bicycle is wonderful! I began riding in 1974 at the ripe old age of 37. Since that time I have owned and ridden ten bikes, including what had been my flagship - a 1973 Schwinn Paramount, model P-13. My new Waterford is the 1st bike I have actually looked forward to riding again after having just finished a ride. It is without a doubt the best riding, best handling and most responsive bike I have ever owned.
The Bicycle Guide article and your advertising only hint at the enjoyment of riding it, not to mention its beauty. I have included some photos of the finished product, as well as a comparison photo of the Paramount, along with a couple of lens-breakers of myself with the new queen of my stable.
The Paramount, by the way, was refinished by Assenmacher about 11 years ago. It is a 26" frame but actually stands taller than the 66cm Waterford by a noticeable amount. Perhaps you can explain that. (That's because 1) 27" wheels stand taller than 700C wheels and 2) the Waterford has a lower bottom bracket which stabilizes the ride without reducing responsiveness. - ed.).
Please pardon my effusive praise, but I really like what you have produced! By the way, Tom Demerley at Bike Sport in Dearborn, Michigan, is to be complemented, too. He spent a lot of time taking measurements of both me and my two erstwhile prime bikes - the Paramount and a Cannondale 3.0 Criterium, and had the Waterford set up just right. Needless to say, I am very happy with his efforts also.
Thank you for a great product.
Yours truly,
Mike Bohanan