Waterford Rider Gallery
Thanks to the many fine Waterford owners who've contributed photos to this gallery.




Derek Hilton At the Amateur Paris Roubaix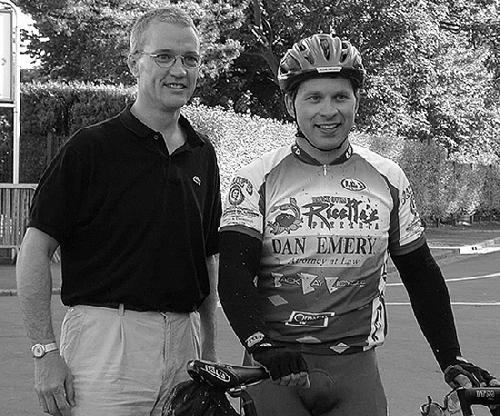 Derek with Amateur Paris-Roubais Race Director JJ Delrot. "This was a dream of mine for a while and it was over a year of preparation and training. I was still not prepared! Anyway....I could write a book on my experience, but I guess you would be more interested in how my Waterford performed. Excellent!!! I had the bike shipped with a Wound Up fork and decided to order your steel fork for this race. I then was surprised on my birthday (one week before I left for France), when I received a Rock Shox Ruby. After much thought and stress of the decision I put on the Ruby. I was the only racer there with such a fork and it may have helped, but honestly, the cobbles were so terrible that I don't think it would have mattered in the end. As of the rest of the bike, I had extremely good luck. We were hit with a huge storm the night before which left several inches of water and mud on the Pave' sections. I passed several riders with flat tires, dropped chains and even broken frames. I finished the race without any mishaps, no flats, dropped chain, not even a crash. The bike felt great and handled flawlessly. My Waterford is a RS-22, which was perfect I believe. Thank you for making such a great bike and I hope you enjoy the photo's." And we do (see below). Thanks Derek!