Waterford Rider Gallery
Thanks to the many fine Waterford owners who've contributed photos to this gallery.




Robbie Weber Finally Finds a Fine Fit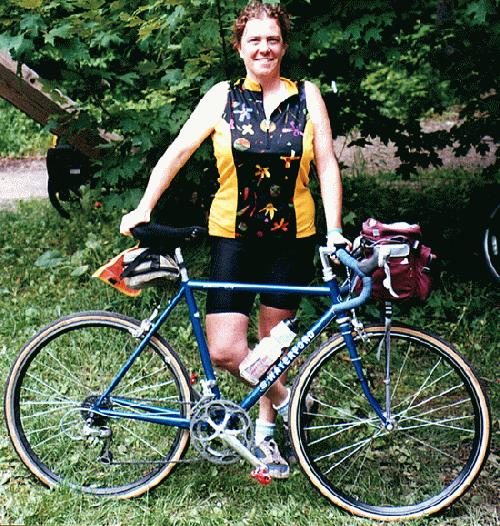 World traveler (and bike activist) Robbie Webber has suffered through bike after bike with too long a top tube for her legs. Waterford solved this problem with this custom designed RS-22 with 26"/650C wheels fitted by Colin OBrian at CronoMetro in Madison. "I was supposed to leave on my first week-long tour eight days after getting my Waterford. I figured that I would need to "get used to" a new bike, so didn't plan to take it on the tour. But as soon as I got on it, I knew I couldn't ride anything else. It was sooooo comfortable! It was as if it had been made just for me.... Oh, right...it WAS made just for me. Since I have weird body proportions, I've never really had a bike that fits correctly. Now I am so spoiled that I don't know how I'll ever be able to ride anything else. I have lways enjoyed biking, but now it is an even greater joy to roll down the road on my beautiful flame blue Waterford. And I love it when people say, "Nice bike!"