The Adventure Cycle
Whether tooling around town or trekking around the world, Waterford's Adventure Cycle provides you the perfect platform.  Designed with a comfort fit, the Adventure Cycle keeps your head up for traffic as well as the sights.  Outfitted with three sets of water bottle bosses, fender mounts as well as front and rear racks, you've got room to store all the gear you need.  Its sturdy you surprisingly light construction comes from using the finest heat treated air hardening steels.  The result is a rock steady ride under load and in a wide range of riding conditions from the smoothest pavement to the rough that sometimes make a tour all the more spccial.  It all means that you can explore the world with confidence.
Shown here is the 14-Series model.  The Adventure Cycle is also available in a 22-Series version,  crafted with Waterford's legendary lug construction.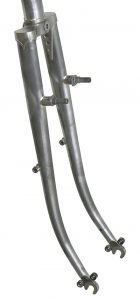 Canty Brake Touring Fork
With its durable construction, double eyelets and rack mounts, this fork is a true workhorse.  Available with the box top (as shown) or our sloped touring crown, you have your choice of front rack mounts, featuring those for the Tubus Tara low-rider.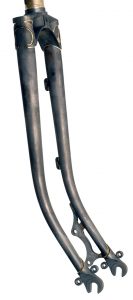 Crowned Disc Fork
This fork features the look of a crowned fork with disc brakes and the ability support full loads.  Shown without the optional front rack mounts, you can choose form several stock placements.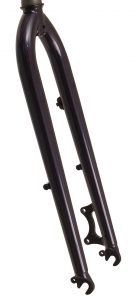 Unifork for Touring
Our Unifork uni-crown forks can carry the big loads.  This version supports disc braking, good for wet weather and reduced rim wear.  Available with several stock low-rider rack mounts placements.