Fixed Gear / Track
Track Racing has been in Waterford's blood from the very beginning.  Waterford starts with an excellent "omnium" geometry, but can customize it for riders desiring to compete in specialized events such as sprints or pursuits.  Available as a 22-Series lug (as shown), 33-Series S3 or 14-Series OS 2 designs.
Fixed gear riding is one of the best ways to develop a smooth pedal stroke used for any other kind of cycling.  Take fixed gear riding to the road with safety and training features like brake cable routing and accommodations for fenders.
You can have any way you like it.
Showcase Track Geometries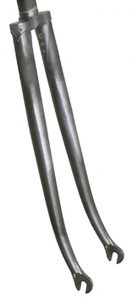 Waterford Track Fork
With its beefy custom round Reynolds 531 blades, investment cast crown and short rack "pista" geometry, this design can support riders at all levels of competition.  Available without brake holes for the track only, or with brake holes for off-track training and riding.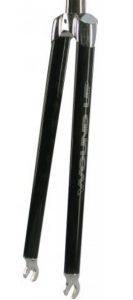 Wound-Up Zephyr
Track Fork
Looking for a track compatible carbon fork?  The Wound-Up Zephyr has the shortest rake of any composite fork out there.  That's an important ingredient in great track handling.