FUNCTION
The best part of ordering a custom bike is the endless possibilities for your dream bike. The hardest part is navigating through all of the options.
"Function" refers to what your Waterford must do to perform properly. At first, the answer sounds simple as in, "I want a road bike." No longer must you limit yourself to the offerings on the sales floor.

The first place to start is to determine how the bike will be used? Racing? Club rides? Credit card touring? Trails? This is the best time to clarify how you want to use your new Waterford. Then we can develop a design that anticipates your use, component selection, and other attributes.

How will you use your bike? In a few words, please summarize how you will use your bike. Then allocate your percentage of use to different kinds of riding. This helps us understand your "big picture" vision.
STARTING POINT
Knowing what kind of bike you want to ride is a great starting point in designing your custom bike. With all of the options available to the rider, it can be a bit intimidating to navigate through it all. Having the following in mind can help narrow down what is available to you when hammering out the details.
DRIVETRAIN
Drivetrains are constantly evolving an require different configurations to achieve a smooth set up and the shift to electric and 1x drivetrains have created different needs and opportunities in frame design. The popularity of beltdrive has created a need for a special dropout which we can certainly provide if we know that is the end goal. Having your drivetrain in mind will be important in guiding many other decisions regarding handlebar choice and shift routing.
HANDLEBAR
The choice of shifting system can determine your handlebar choices. If you are dedicated to a road group, it may require the use of a drop bar. An internally geared hub might require a flat bar to mount a required shifter. Knowing the handlebar shape and width can insure a ideal design for comfort and performance.
WHEELS
Most road bikes use 700c wheels unless otherwise specified. Proper fit and safety may dictate an alternative size. When frames are required to be small, 650c or 26" wheels are typically used. These smaller wheels offer better stability and acceleration for some riders. Keep in mind that gearing should be adjusted to compensate for smaller wheels.
TIRES
List the maximum tire size (width) you would like to use on your new bike. This affects frame construction, braking system choices, fit, tube selection, and a number of other decisions about your bike's design.
BRAKES
Your brake choice is linked directly to your desired maximum tire size. Also, if you wish to mount fenders, you will need to choose a brake that provides the additional clearance needed to do so.
LOAD CAPACITY
Having in mind how much you want to carry when you ride will be important in figuring out rack braze ons and eyelet selection. If you want a dedicated race bike, think about watter bottle placement and if you want to carry a pump or a small frame bag. If you want to carry a ton of weight or want a specific rack style, make sure you get the correct rack mount dimensions.
DERAILLEUR CABLE ATTACHMENT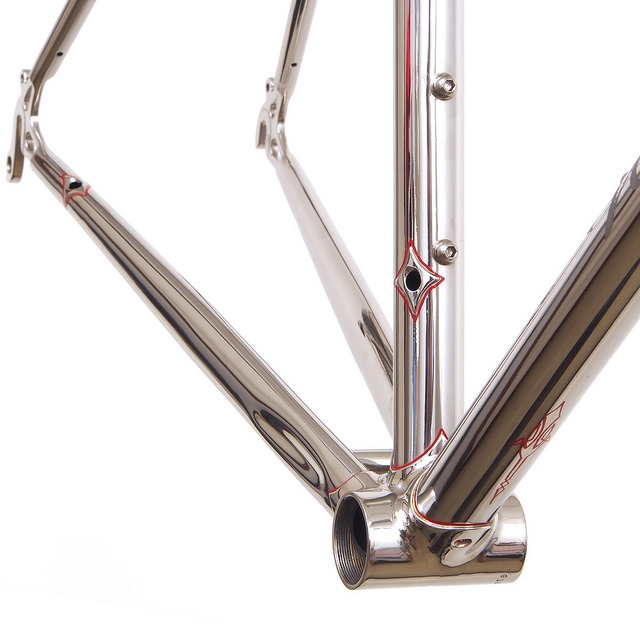 Di2 ROUTING
Drilled and reinforced holes in the frame and modifications to run wires for Shimano Di2 shifting system. Hole guid the cables from the downtube through the bottom bracket and out the chainstay.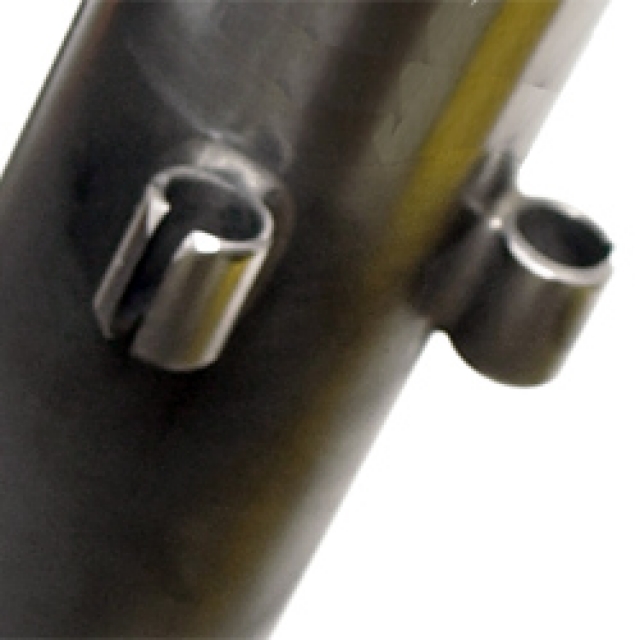 DOWNTUBE STOPS
Split stops on the downtube reduce interference between the derailleur cable casing and the front brake housing. In-line adjuster recommended at least for the front derailleur.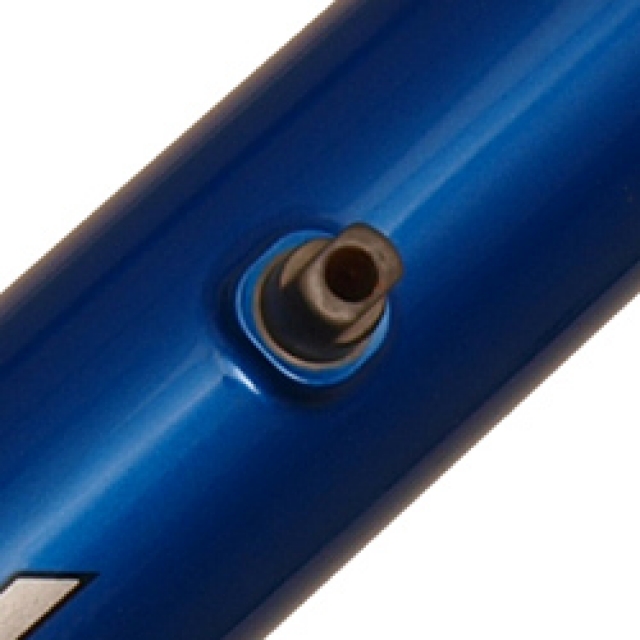 DOWNTUBE SHIFT BOSSES
This is the traditional method, even for STI or Ergo shifters. Requires a downtube shift adapter.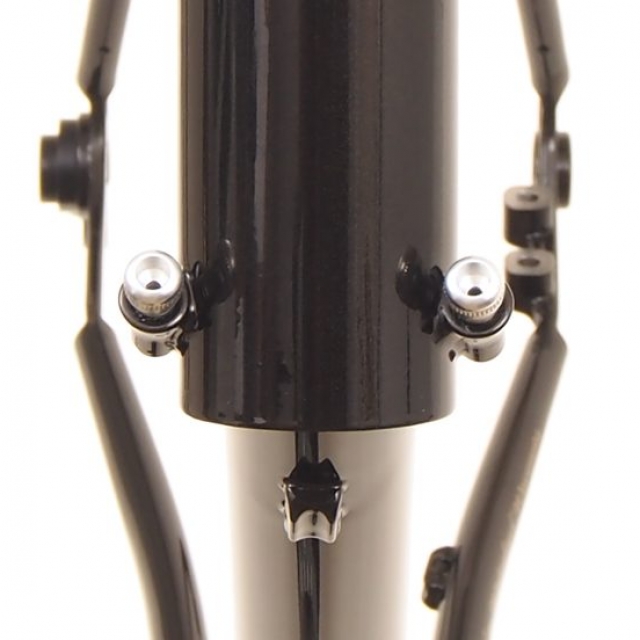 HEADTUBE CABLE GUIDES
Great adjustability but may have interference with the brake cable housing.
CABLE AND HOSE  ROUTING
For bikes with brakes and shifters, cable and hose guides allow for a clean set up. Variations of different package configurations are available.
CABLE BOSS
For use with mechanical brake and shifting. Multiple packages available for routing up to 3 cables.
HOUSING GUIDE
Allows for full cable hosing to be routed as well as used for hydro disc brake routing.
INTERNAL ROUTING
Internal routing for full housing can be installed for a clean look.
DROPOUTS
The function of your bike could determine your choice in dropout. You maybe looking for a traditional road bike and opt for a vertical dropout. You may want a road bike that has disc brakes for wet weather descents. . .or because you like disc brakes. Maybe you want versatility in a interchangeable dropout because you want quick release skewers now and thru axle later.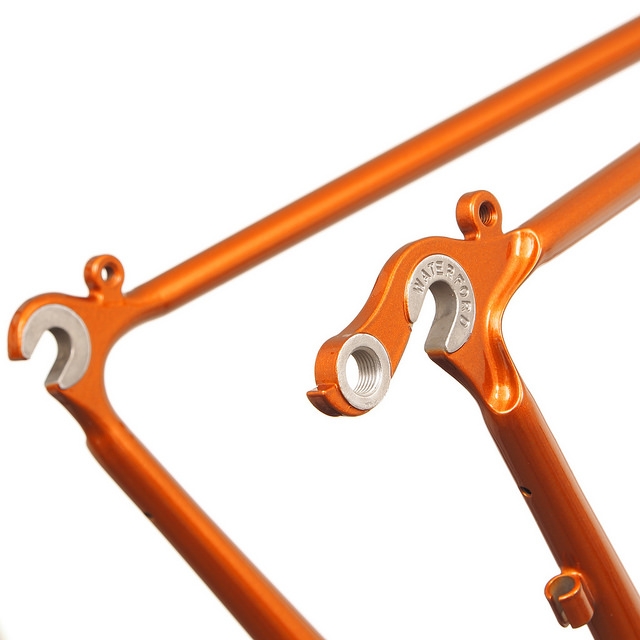 VERTICAL STAINLESS STEEL
0, 1, & 2 eyelet options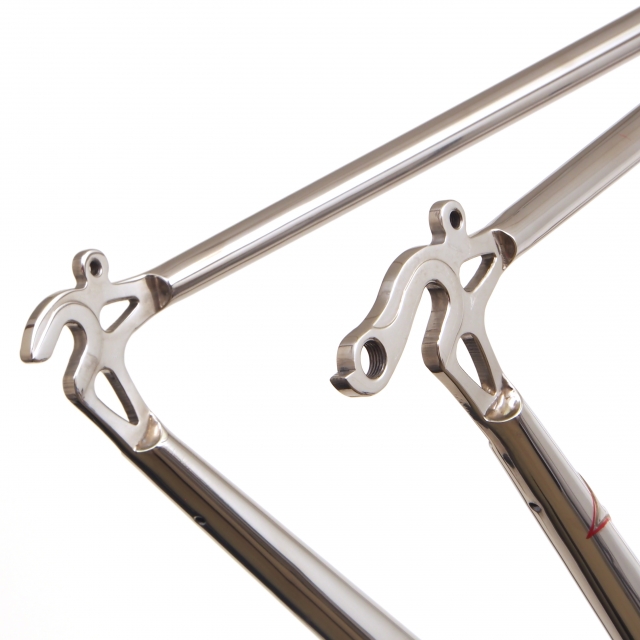 ARTISAN STAINLESS STEEL
0, 1, & 2 eyelet options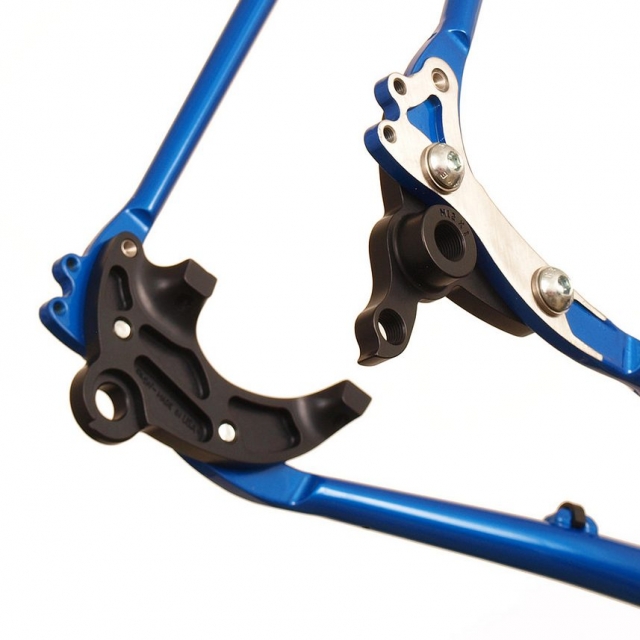 MODULAR DROPOUT
Compatible with Paragon replaceable swing style dropout. 12mm thru axle and quick release with disc brake options.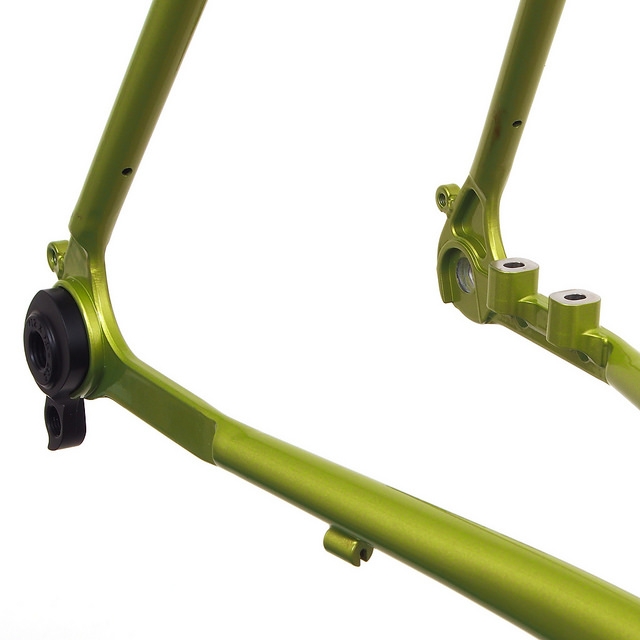 PARAGON THRU AXLE DROPOUT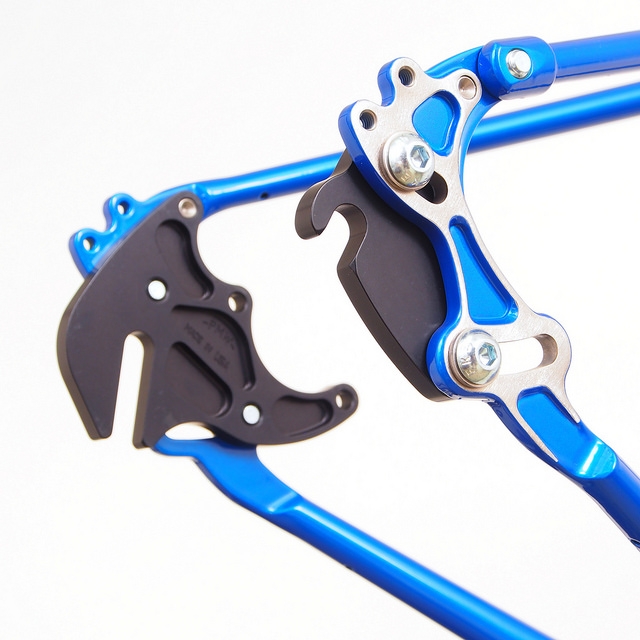 PARAGON ROCKER DROPOUT
Pictured here with Rholoff dropouts and belt drive compatible.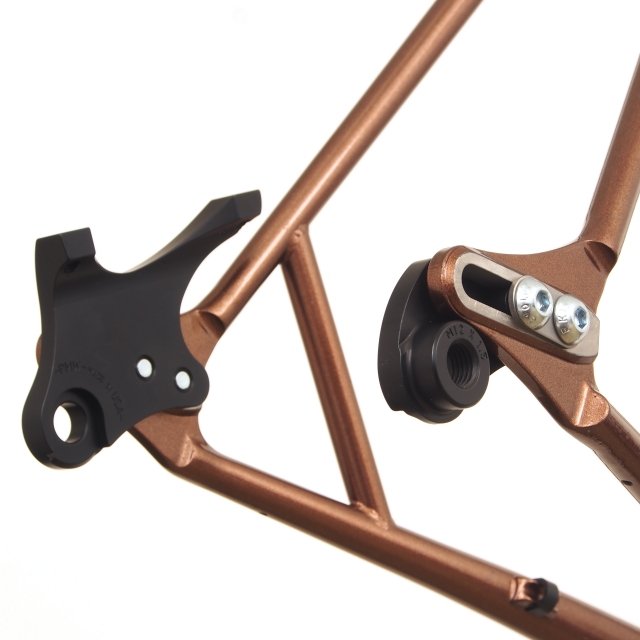 PARAGON SLIDER STYLE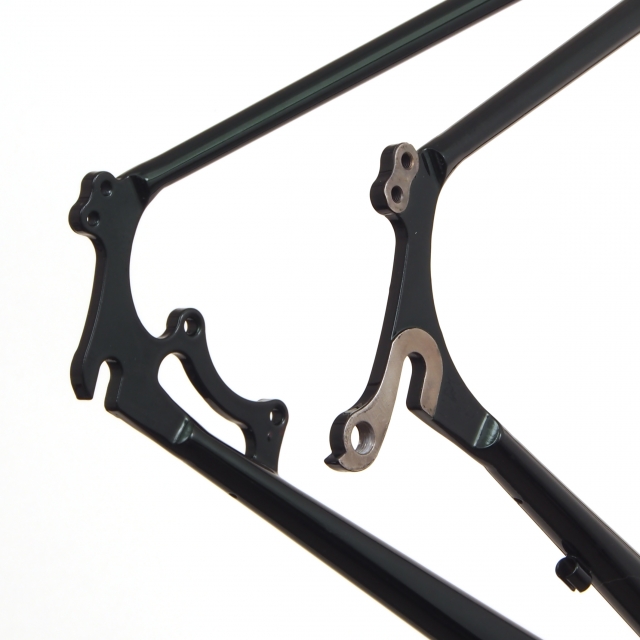 CHAINSTAY ISO DISC / QUICK RELEASE
0, 1, & 2 eyelet options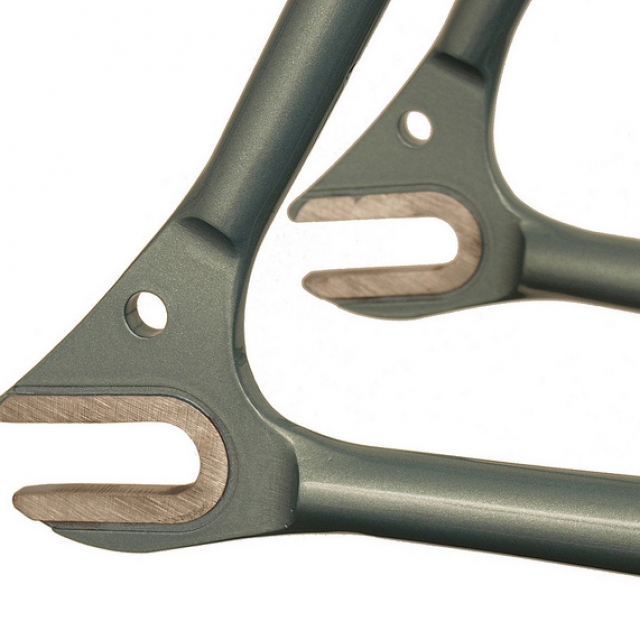 TRACK DROPOUT
BRAKES
With all of the brake options in the World, take a look at what we have available to suit your needs. Options will vary on wheels, tires, and fender options.
DISC BRAKES
There is no tire size limit, but there are a ton of standards. We try to cover them all and keep up to date. take a look at what suits you best for your ride.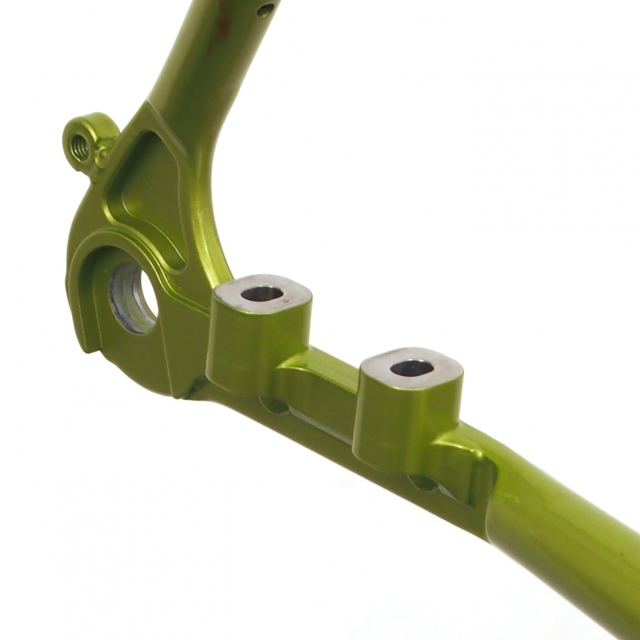 FLAT MOUNT DISC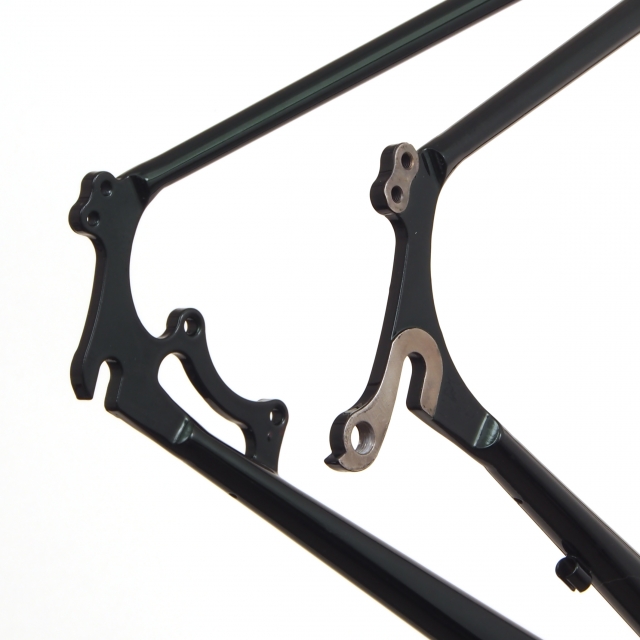 CHAINSTAY DISC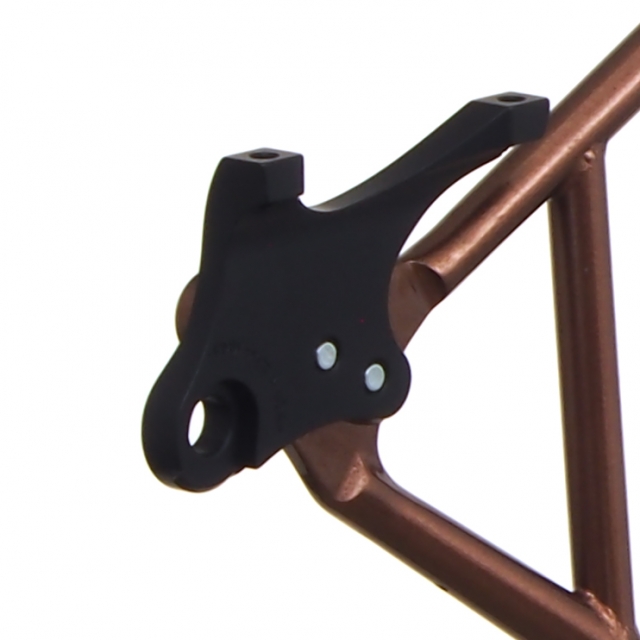 POST MOUNT DISC
Brakes: Your wheel diameter, tire and fender clearance requirements will determine the available brake styles. Most "road" brakes are limited to 25C (1 inch) tires without fenders. For racing, of course, it's a must. They are functional for a wide range of good weather road riding.
In recent years, good quality brakes have appeared on the market that provide the style of a road brake while providing more room for bigger tires plus fenders. A growing number of riders are choosing cantilever and disc brakes to accommodate a wider range of tire and fender options. They can ride with the same 23-25C tires when conditions permit but can go to a fatter tire for different kinds of terrain and riding conditions.

The list at right shows examples of popular brake styles and their maximum tire size limits.
ROAD/DUAL PIVOT
49mm – Up to 28c

57mm – Up to 28c plus fenders

64mm – Up to 38c plus fenders
V-BRAKE/LINEAR PULL
2.1″ Max Tire Size
CANTILEVER
2.1 Max Tire Size plus fender with option for a threaded bridge for barrel adjuster.
Loading / Racks: Your desired load capacity affects tube selection and steering design. It's better to have a frame over-designed for every day riding than it is to be under-designed for unsupported touring. An under-designed frame is more subject to high speed wobble and may be harder to control, especially on descents.
We recommend front, as well as rear racks for loads over 20 pounds (10kg). If you plan to use a front rack please list the brand and model as the mounts are not standardized. We have a selection of front rack mount options that cover 80% of racks available. Mounting other racks may incur additional charges.
Light duty racks can mount off the brake bridge, avoiding the need for rack mounts. This can be desirable if you enjoy the clean look of a frame with a minimum amount of braze-ons.

For randonneurs, we offer standard mounts for Mark's Rack from Rivendell. This rack is designed to support a light handlebar bag.
An external chromoly rear rack mount option is included with your frame order. On stainless steel frames, Waterford rack mounts take the form of threaded bosses drilled into the seatstays (with a 2mm alignment tolerance).
REAR EYELETS AND FENDER MOUNTS
REAR DROPOUT EYELETS
Waterford offers zero, one, or two eyelets as an option for most of its dropouts. Not all dropout styles have the ability to accommodate two eyelets
FENDERS
We add eyelets and other mounts for fenders. Like front racks, fender mounts are not fully standardized. Upcharges may apply when special fenders from Honjo, Velo Orange, and other suppliers are specified.

Fender options can dictate max tire size and brake compatibility.
This refers to the style of connection between the seatstays and the seat tube. Waterford typically uses the clean Fastback design. Side tack designs offer a more traditional look. With some stainless lug designs, side tack stays are required because of the limited lug surface area. 14-Series and 33-Series designs have Fastback stay treatments.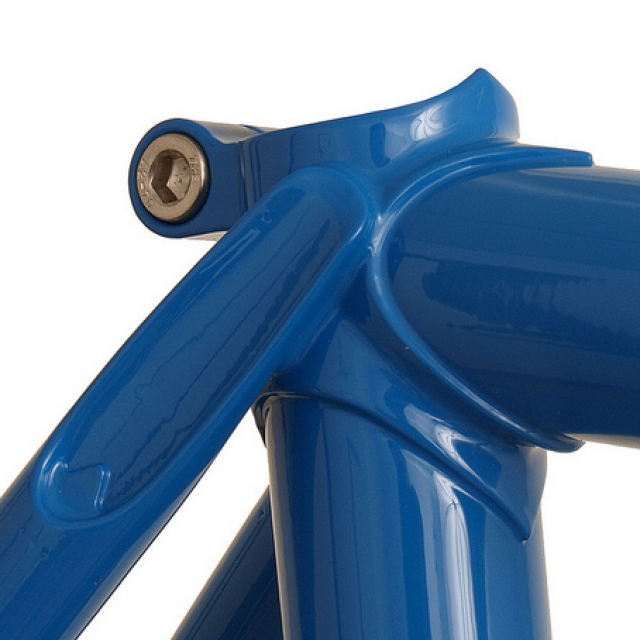 SIDE TACK – PLUG STYLE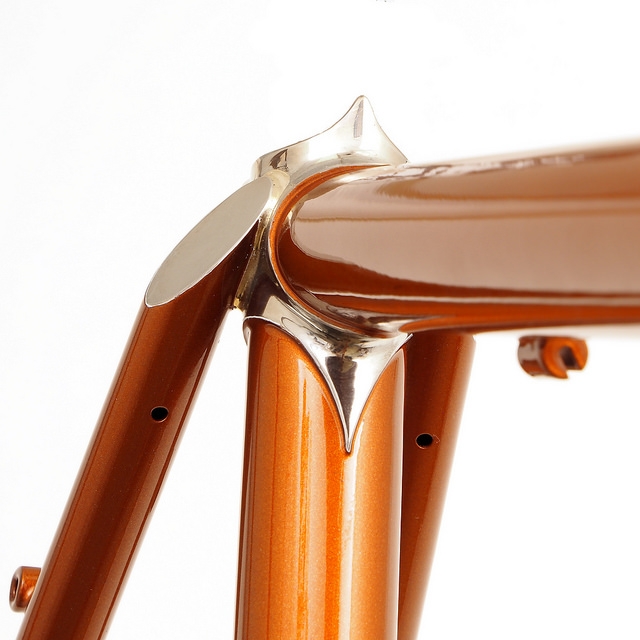 SIDE TACK – FLAT CAP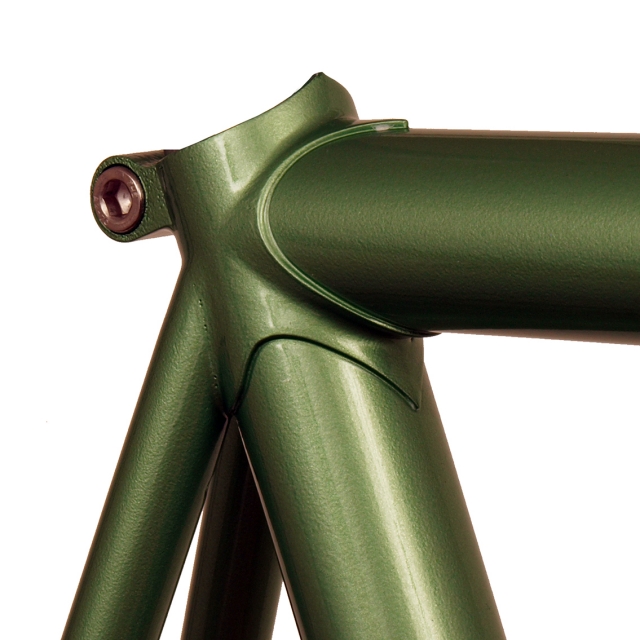 FASTBACK – LUG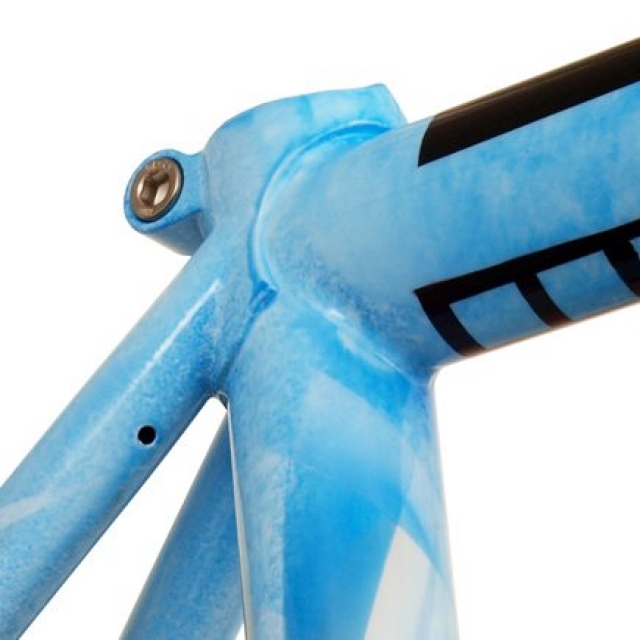 FASTBACK – HALF LUG
33 & 14 SERIES ONLY
BRIDGE
The bridge is the crossbar between your chainstays and seatstays. Every category of bike has different bridge types, or none at all. Some are apart of the brake function as well as fender mount. For designs with long chainstays, they help stiffen up the back end of the bike.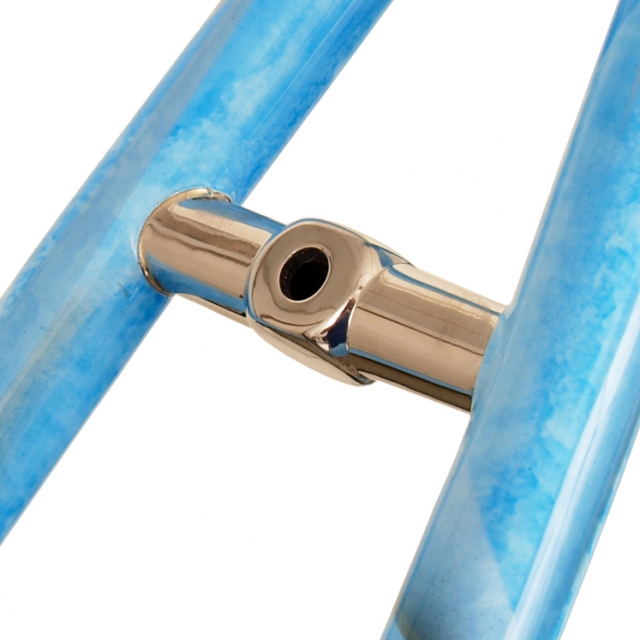 STAINLESS MACHINED
Counter Sunk for dual pivot road brake. Polishing options available.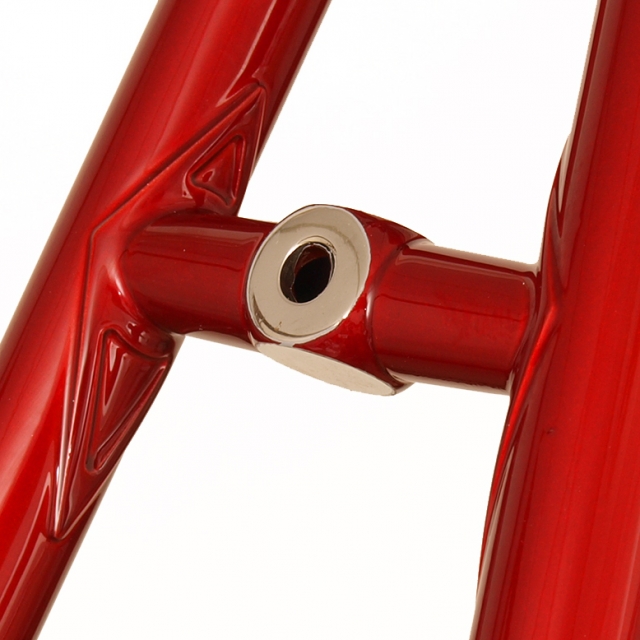 LUGGED BRAZE ON 
Lug addition to add a classic look to your bridge. Available on most models and offered in polished stainless steel.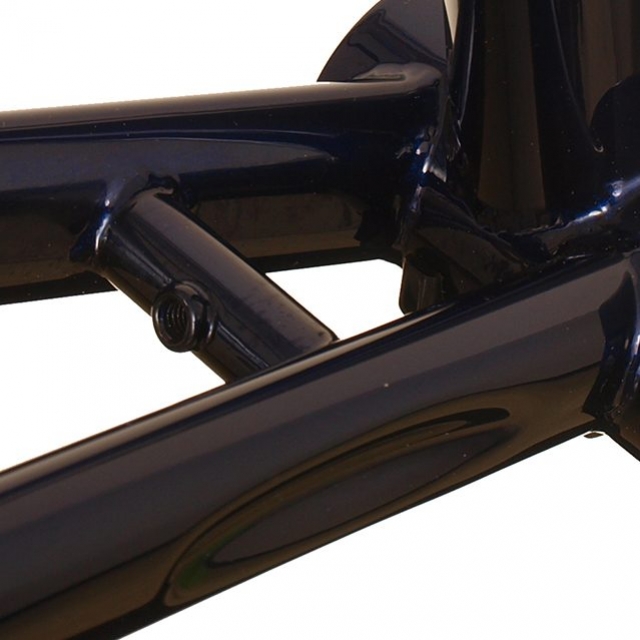 CHROMO
Simple design to provide stiff handling and fender mount option. Used on chainstay and seatstay. Very popular on 33 and 14 Series Waterfords with disc or canti brakes.
EXTRAS
How can this bike get better? Are you going to need strong rack mounts? Do you want a place to put your pump? Vintage chain hanger? Three water bottle bosses?
PUMP PEG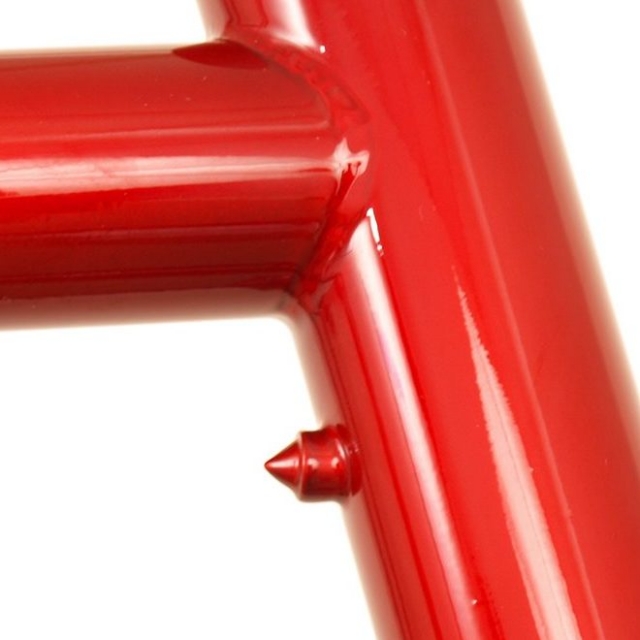 Pump pegs can be installed on frames that have suffi cient head tube length between the top tube and down tube. Pump pegs are made of chromoly only. There is no stainless steel version for Reynolds 953 frames.
WATER BOTTLE BOSSES
You can order your Waterford with up to three sets of water bottle bosses; on the seat tube, on the top of the down tube, and underneath the down tube. You can request other boss positions. An additional charge may apply.
S & S COUPLERS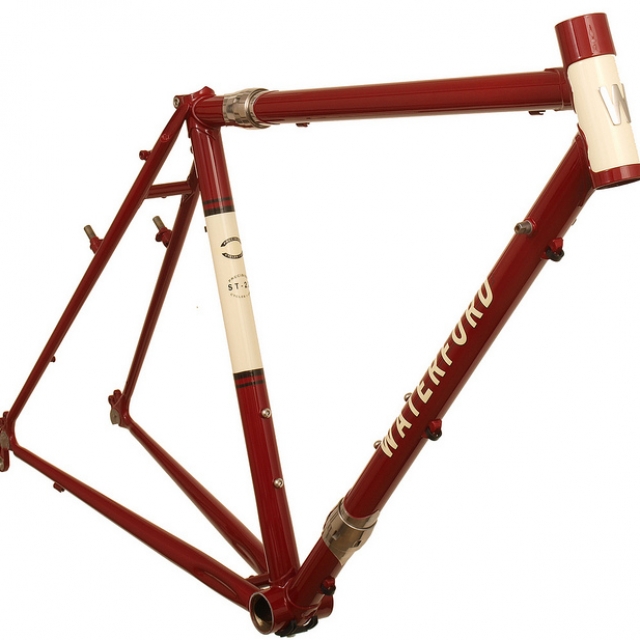 S&S Couplers: S&S Couplers allow you to break down your bike so that it fi ts into a case that meets airline standards, reducing or eliminating baggage fees. S&S's carrying case and packaging accessories are sold separately.
CHAIN HANGER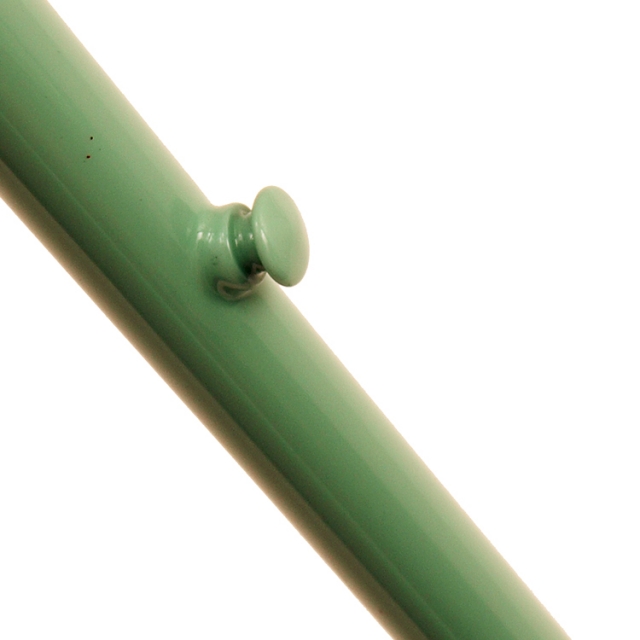 The chain hanger became a popular custom option in the late 1980's as a way to hold the chain when removing the rear wheel. No stainless option available.
The options dictated by the function of the bike will provide you options in construction. If you want a dedicated race machine that can hold a couple water bottles, the R-33 or R-14 might be the frames you want to go with. If you want a full touring bike with a ton of charm and loaded with capability, you have your choice of a lugged AC-22 or TIG welded AC-14.