American Cyclery, a terrific shop in San Francisco, approached us about a customer of theirs, Tom Savarino, who has been suffering from number of leg and hip injuries, including losing part of his leg. In spite of this, Tom has remained an avid cyclist, tackling the hills of San Francisco between surgeries. One of the ways he coped with his situation was to move his cleat to the heel of his prosthesis: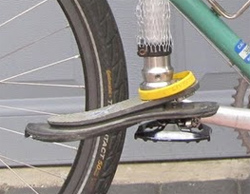 This created obvious toe overlap problems. Instead starting to build a bike, we connected him up with Mark Laytham, Waterford dealer (Ballwin Cyclery in Ballwin, MO) and one of the most knowledgeable people around on prostheses. Mark walked Tom through modifications to his artificial limb. Now we could make a design really work. Tom sent us this photo from when he picked up his bike from American (shown with owner Brad Woehl):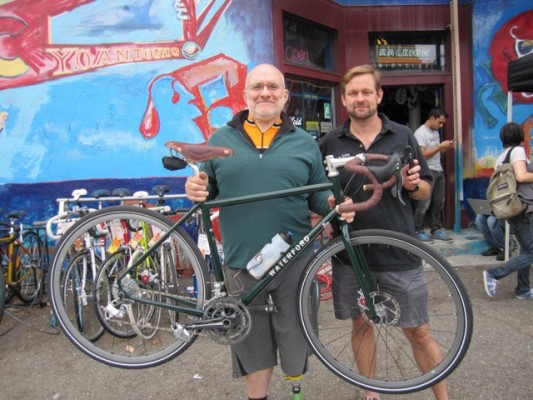 "Sorry it took me so long to write. Thank you for all your help. I really love my new bike. . . . Also, I've accidentally turned into a roving ambassador for Waterford. More people
that you'd think (than I'd think) come up to me and ask me about my leg and my bike.
I gave up trying to lead a low key life while riding, so it's no problem. i hope some
other amputee gets convinced that it's possible.
best regards
ts"
May you have many happy miles on your new Waterford!